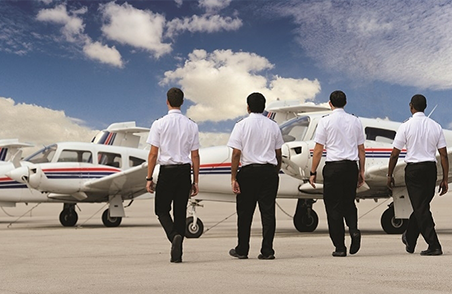 Ravana Aviation Academy pioneer in training
Ravana Aviation Academy (RAA) is a unique professional aviation institute in Sri Lanka. RAA offers Ground School Training for Private Pilot Licence (PPL), Commercial Pilot Licence (CPL) and Airline Transport Pilot Licence (ATPL) based on the syllabus of the Joint Aviation Authority (JAA), which issues a worldwide recognized licensing system, where Sri Lanka is a JAA complying country.
Headed by Founder, Director and Pilot, Harsha Govinda Koralearchchi Bsc (Def), RAA was initiated in September 2012 as a distance learning institution offering an online lecture series. The aim of the academy is to concede strong but basic aviation knowledge with a proper understanding of all stipulated subjects that will eventually lay a well-built foundation for a professional career.
Koralearachchi is the first Sri Lankan to have faced the Airline Transport Pilot Licensing (Helicopter Stream) written examination which was conducted by Sri Lanka Civil Aviation Authority (CAASL) in the Helicopter stream, the only holder of the Ground Instructor License for lecturing and conducting courses and the only qualified Ground Instructor pilot in Sri Lanka to qualify in both, the Aero plane and Helicopter streams. Getting the right educational foundation from the right place in this competitive environment is a tough one and sometimes, the deal evolves especially, when an individual's budget is concerned. Another significant issue that needs to be highlighted is the lack of proper academies that employ trained instructors to provide the relevant steps in educating future pilots and this dilemma is faced not only in present Sri Lanka alone but globally as well.
"Lack of proper academics is a leading factor to accidents and there is an academic barrier in the educational strategies in the country. Aviation needs to be penetrated in a disciplinary manner with the right knowledge. Therefore, I had prepared aviation ladder courses for students from the age of ten where the structure would be applied at schools and systematically, help newcomers to be prepared," he explained.
There are Junior Aviation Levels 01 to 05, respectively, Aviation for kids (AKD-Junior Aviation Level 01), Beginners for Radio Control Aircraft Course (BRC-Junior Aviation Level 02), Intermediate Radio Control Course (IRC-Junior Aviation Level 03), Advanced Radio Control Course (ARC-Junior Aviation Level 04) and Basic Guidance for Aircraft and Helicopter Designing Course (BGD-Junior Aviation Level 05).
The field of aviation is not limited to a student eventually gaining a CPL or ATPL qualification as the field occupies gaining the academic knowledge and flying skills. "There is the pilot who is skilled and then the pilot who is a professional. There is a big difference between the two; a skilled pilot will fly with his instincts and to become a pro, a grasp of the knowledge in flying is obviously, essential," he acknowledged. Following a bout of research, Koralearachchi has introduced the Integrated ATPL theory program (full-time course) that would prepare a student pilot to face ATPL examination in just duration of three months. This ATPL structure will offer straightaway the required academic qualification, thereafter; students can log their flights at the Asian Academy of Aeronautics in Malidives at www.aaa-fta.com, which RAA is affiliated with. This process would take one year only. Students from India and Maldives have taken up courses at RAA and this shows that with his level of commitment, proficiency in teaching techniques and ultimate preparations for test and examinations provides that much needed confidence for future pilots to excel in the field.
"With this venture, we can penetrate the Asian market and get foreign students to participate, so the targets need to be identified. The government needs to come forth and look into these areas. A demand in Maldives and India can be acquired if the correct implementation is put forth," he said. "With the latest system which is designed towards uplifting children's educational level in the aviation field up to the professional level, the ladder courses would fill this purpose, in turn, boosting children's senses and imagination of the field and gradually provide them with the rightful knowledge," Tharanga Silva, Director/Aeronautics Engineer, RAA explained.
"The current plan is to initially work on spreading this system to the District of Gampaha as it will be easy to convey the primary administrative process. Our focus here is not business related but we rather want to contribute our knowledge socially and bring forth our valuable next generation with the right implementation," Silva said.