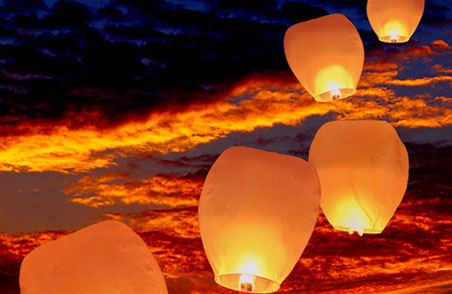 Sky Lantern Project
First time in the history of aviation field in Sri Lanka sky lantern has been introduced by the Ravana Aviation Academy to the civil sector as an initial element to enter the aviation field from childhood to the elder stage with proper guidance and theory of it.
According to a concept of Captain Harsha Govinda Koralearachchi Bsc(Def) the founder of Ravan Aviation Academy has nominated following icon events of every year in which sky lanterns can be launched.
Month of February – Independent Day
Month of April – Sinhala & Tamil New Year Day
Month of May – Vesak Full Moon Poya Day
Month of June – Poson Full Moon Poya Day
Month of July – Ramazan Fastival  Day
Month of August – Esala Perehara in Kandy
Month of September – Hadji Festival Day
Month of November – Deepawali Festival Day
Month of December – Christmas Day & 31st Night
Furthermore these Sky Lanterns can be used for celebration of your happy days of your life and any type of party events such as anniversaries, birthdays, weddings etc.